Impress your guests with these easy and fun vegan party food ideas during your next social event. Find lots of ideas for crowd-pleasing appetizers, entrées, desserts, and more that not only vegans will enjoy!
If you are looking for organizational tips and party theme ideas read our guide on how to host a vegan party.
Jump to:
Make a Charcuterie Board
Assembling a vegan charcuterie board is easier than you think! Learn how to make it and find a huge selection of tasty plant-based foods to pick from in this guide.
Appetizer
Party appetizers set the mood for your night and give your guests something tasty to eat while they wait for the main course. They are also great for a party that doesn't serve a meal. Your guests can enjoy a tasty plate of smaller foods while they hang out and have fun.
Small sandwiches such as bruschetta, or crostini are perfect for parties. Try these grilled and marinated zucchini crostini with creamy vegan cheese. They surely are the ultimate crowdpleaser. If you are looking for a more casual sandwich try these Hawaiian vegan meatball subs.
A galette is a true showstopper. It is elegant, delicious, and serves everyone while waiting for their meal. Plus, they are really easy to make and so versatile. You can fill them with hearty fillings such as spinach and artichokes, tomato and vegan cheese, or even make a sweet one filled with fruit.
Looking for a healthy and gluten free appetizer? Try raw produce such as these refreshing cucumber and avocado rolls! They are entirely whole-foods plant-based and the perfect light starter for a heavy meal.
Perfect for big crowds
Appetizers made with puff pastry are super versatile, and quickly made when using store-bought puff pastry sheets. These spinach and vegan cream cheese pinwheels by @veganricha for example take less than an hour to make and can be made a whole day ahead. A delicious and beautiful appetizer recipe for any party!
Other finger and single-serve foods such as tostadas will excite your guests. Try this bean tostaguac recipe from @brokebankvegan for a quick, and delicious party snack. Crispy tostadas are topped with layers of creamy refried beans, chunky guacamole, fresh vegetables, cashew crema, and dairy-free cheese.
Party poppers are all-time classics and come in all different kinds of flavors. This Jackfruit BBQ Party Popper recipe by @thefreshfig is an amazing appetizer for parties and events!
Tacos are super versatile and have the perfect appetizer size. However, if you are a huge taco fan you can even make this the main meal with a huge taco bar. Try these super easy-to-make vegan jackfruit carnitas tacos by @fannetasticfood to serve as an appetizer.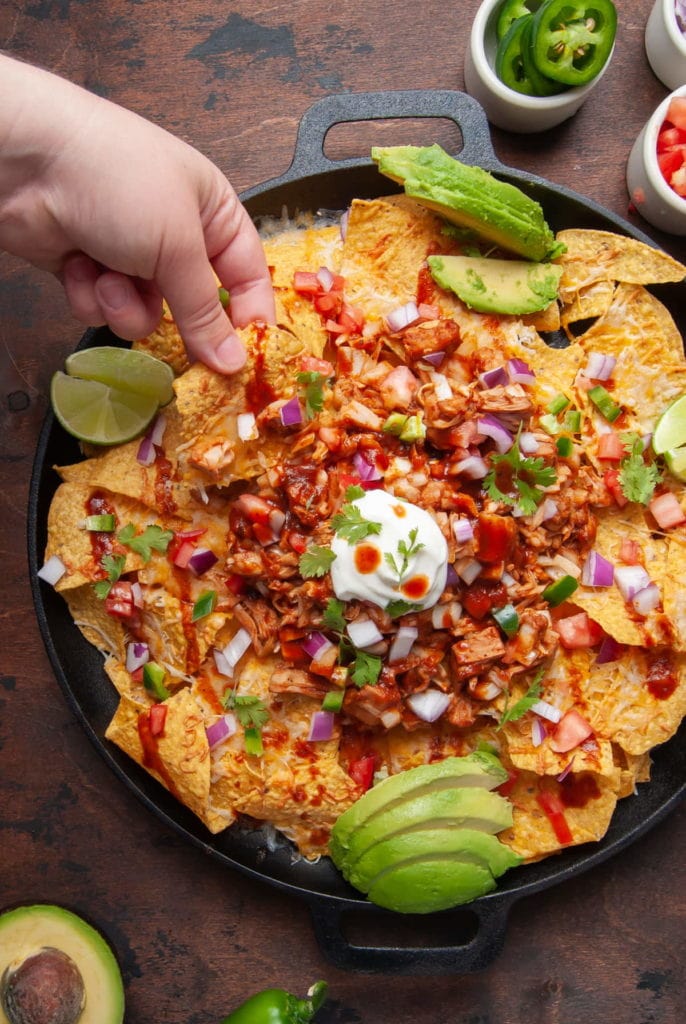 Looking for a shareable app that's a total crowd-pleaser? Nachos are always a great idea! This BBQ Jackfruit Nacho recipe by @marleysmenu is loaded with complex flavor and texture while staying entirely plant-based.
This was just a small selection of ideas and recipes. Other options could be antipasti, filled veggies (such as jalapeños, or mushrooms), all kinds of salads, store-bought vegan varieties, and so forth. For more ideas browse our appetizer page.
Snacks
You can serve store-bought snacks or make your own snacks from scratch. Some great vegan snack ideas include:
Potato chips

Snack produce such as mini carrots, bell pepper, cucumber etc.
Popcorn (sweet or savory)
Pretzels
Vegan candy
Dips and Spreads
When it comes to vegan dips and spreads the possibilities seem sheer endless. In most stores, you will find excellent vegan options. Some of the best store-bought varieties include Bitchin' Sauce, Siete, Fritos Bean Dip, Good Foods, and more!
While store-bought varieties are a great time saver. I guarantee you your guests will get especially excited about homemade dips and spreads. Here is a mix of recipes for crowd-pleasing classics and the party dip extravaganza!
Hummus
Fruit Jams
Melted Chocolate Dip
Entrées
Mouthwatering plant-based entrées and sides for your next party don't have to be bland, nor complicated! Spice up your gathering with these meal ideas and excite everyone.
Baked dishes and casseroles are a great meal idea for your next party. They are easy to prepare ahead. Simply prepare earlier that day, or a day ahead and whip it in the oven shortly before your guests arrive. Casseroles make big batches that are perfect for feeding a crowd. Nurture your guests with a wholesome plant-based lasagna, or baked mac and cheese.
Plan your very own raclette dinner party and prepare your individual food while you are all gathered around the table. Think of it as kind of like a fondue party! Learn what exactly it is and how to plan it with our raclette dinner party guide.
If you're you're looking for a more elevated dish, and have time to make an entire main meal from scratch for your guests, try this homemade vegan and gluten free pumpkin ravioli with garlic butter by @chrissaysnature. They only require a handful of ingredients and are perfect to please a crowd.
More entrée ideas:
Sides
Don't forget your sides and salad. This is your option to throw in some greens such as kale, arugula, spinach, or other salad greens. Always serve a salad with your main meal. Roasted vegetables such as Brussel sprouts, green beans, or potatoes are filling and pleasing side options.
More side and salad ideas:
Dessert
After serving your guests the main meal a dessert can't be missing. Parties and special events often have big, filling meals, so your guests will need time to digest the food before tackling a dessert. That's why waiting for 15 to 30 minutes before serving the dessert is a good choice.
One of our favorites to serve after a heavy main meal is Herrencreme, a German dessert pudding with rum and dark chocolate shavings. It is a light and satisfying dessert that fits even after a heavy holiday menu!
This light no-bake avocado lime cheesecake is also a great and easy dessert option after a heavy main course.
If you are planning on serving only appetizers and snacks on your party add sweet finger foods and dessert to your buffet or table as well.
Other desserts and sweets to serve include:
For more ideas browse our sweets and desserts page.
Theme Parties
Planning a theme party? We have a selection of roundup articles for your next themed party, including vegan Star Wars Party, Harry Potter Party, and Thanksgiving ideas.